ProZorro is a hybrid electronic open source government e-procurement system created as the result of a partnership between business, government and the civil society
ProZorro is a fully online public procurement platform and a collaboration environment that ensures open access to public procurement (tenders) in Ukraine. Fully implemented in 2016 as a hybrid (both centralized public and decentralized private marketplaces) system it has since been globally recognized as one of the most innovative public procurement systems delivering government services in a stakeholder-focused, transparent, effective, fair and low-cost way.
Public purchasing accounts for a sizable part of Ukraine's GDP. Annually, about UAH 600 billion (approximately EUR 20 billion) worth of goods and services are transacted with the help of tenders. It is estimated that ProZorro may be responsible for up about 10% of the overall to public spending savings due to increased competition and better transparency.
All of the functionality offered by this online portal, is available to the general public without the need to register and without any barriers to access. All public tender information in Ukrainian language and procurement announcements in English over certain price thresholds is available here. In this way, ProZorro ensures transparent and efficient spending of public funds by simplifying oversight opportunities for the civil society and by enabling enhanced, open competition among businesses that aim to supply goods and services to the government entities in Ukraine.
ProZorro traces its origins to a grassroots volunteer-led reform initiative. Funded and overseen by a group of international institutions and NGOs since it has grown into an extensive collaboration environment unifying government agencies that oversee public purchasing, government organizations involved in public purchasing, educational partners, private enterprises, civil society and media participants, as well as global national government partners and international non-government organizations.
The ProZorro team has developed an absolutely unique model of a robust collaboration and trust for the business, government, and the civil society. This model is available for adoption within any country aiming to implement a highly efficient electronic open procurement system as a healthy collaboration where all participants win
Benefits for the ProZorro Community of Stakeholders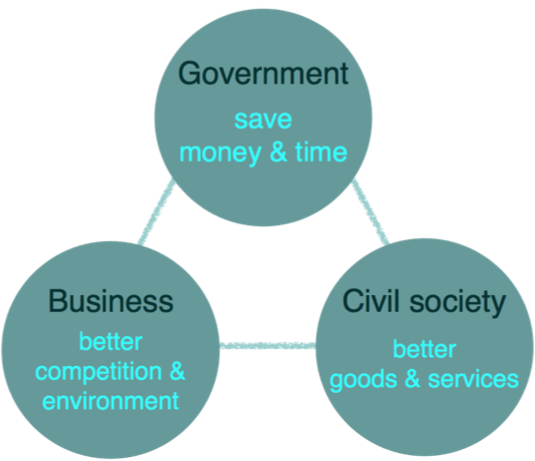 The "Golden Triangle" partnership benefits all parties involved, promoting change while maintaining high level of trust among the participants. The government supplies the legal framework that allows the procuring entities to streamline the tendering process while attaining savings on the goods and services purchased. The business environment provides part of the e-tendering infrastructure through the marketplaces that enable easy access to the tendering process, connecting both the procurers and the potential commercial suppliers. Businesses gain access to a huge market, enabling a healthy competitive environment. The civil society gains access to all tender documentation in real time and with the help of available tools monitors the tenders for compliance and best practices.
The Hybrid Architecture of ProZorro
ProZorro stores all public purchasing (procurement) data in the central database accessible directly through the online portal. Tender documentation and the tender procedures are transacted via the authorized commercial e-marketplaces. The e-marketplaces serve to both the procuring entities and the potential suppliers. This public-private, centralized and decentralized architecture makes the system a hybrid one, with built-in checks and balances and benefits for all.
How procurement procedures are conducted (video in Ukrainian language)