The ProZorro Team & Strategy
The public purchasing reform in Ukraine began as a volunteer movement, with the desire of ordinary people to change the rules of the game and to make the country a better place. Looking back, ProZorro has clearly demonstrated that the quality and speed of change depends on the willingness of the people involved.
The Prozorro Team has been the main driving force behind the public procurement reform. It is a diverse group that includes representatives from the Ministry of Economic Development and Trade of Ukraine, the "ProZorro" state owned enterprise, the online marketplaces business authorized to work with the public procurement database, non-governmental organizations and the civil society. This unique cooperation model unites community activists, businesses and the government, helping to fight corruption and to restore trust in all areas of public procurement. This cooperation model is not only deployable in Ukraine, but can also be applied in other countries.
The Team Manifesto
People of Ukraine strive for changes. Even when the perceived chances of success are low, we believe that our aspiration to prove that changes for the better are possible will help up overcome the most adverse circumstances.
The public procurement reform is rooted in a volunteer movement, fueled by vision to re-write the rules of the game, basing them on values that meet the needs of the entire country. Our personal example shows that the pace and quality of the changes for the betetr depends on no one but us.
We are making our country more livable and our governement more accountable.governement more accountable.
We are building a sustainable network between businesses, public authorities and the civil society. Together, we are building trust in Ukraine's public procurement infrastructure. Ukraine's revival and the betterment of the world depends on efforts like ours.
Our key values are openness, self-improvement, responsibility, teamwork and performance.teamwork and performance.
"Everybody sees everything". We are open because we have nothing to hide. We discuss difficult issues openly and together find ways to resolve them. We share our achievements.
"Break through this granite wall!" is a motto which motivates us to persist in the face of adversity. We seek opportunities to learn and to discover new ideas. We don't rest on our laurels.
"Who else, but us? When else, if not now?" We are proactive and do not shy away from taking responsibility. We strive to be role models for our team, for the government and for our country.
"One for all, all for one". Within our team we value each and every person and believe that together we can rise up to meet any challenge. Each one of us feels comfortable being ourselves.
"Keep up the speed of change". We can dream and work towards a result. Measurable progress is more important than grand ambitions. Enthusiasm is more important than experience.
Openness, development, responsibility, team spirit and performance shape our common trust in one another.
Our current goal is transparent and efficient public procurement. Within this network we aim to enhance:
transparency — as a result of maintaining trust and an even playing ground
competition — for the system's sustainability and open market inclusiveness
professionalism — for a new level of both efficiency and effectiveness in public purchasing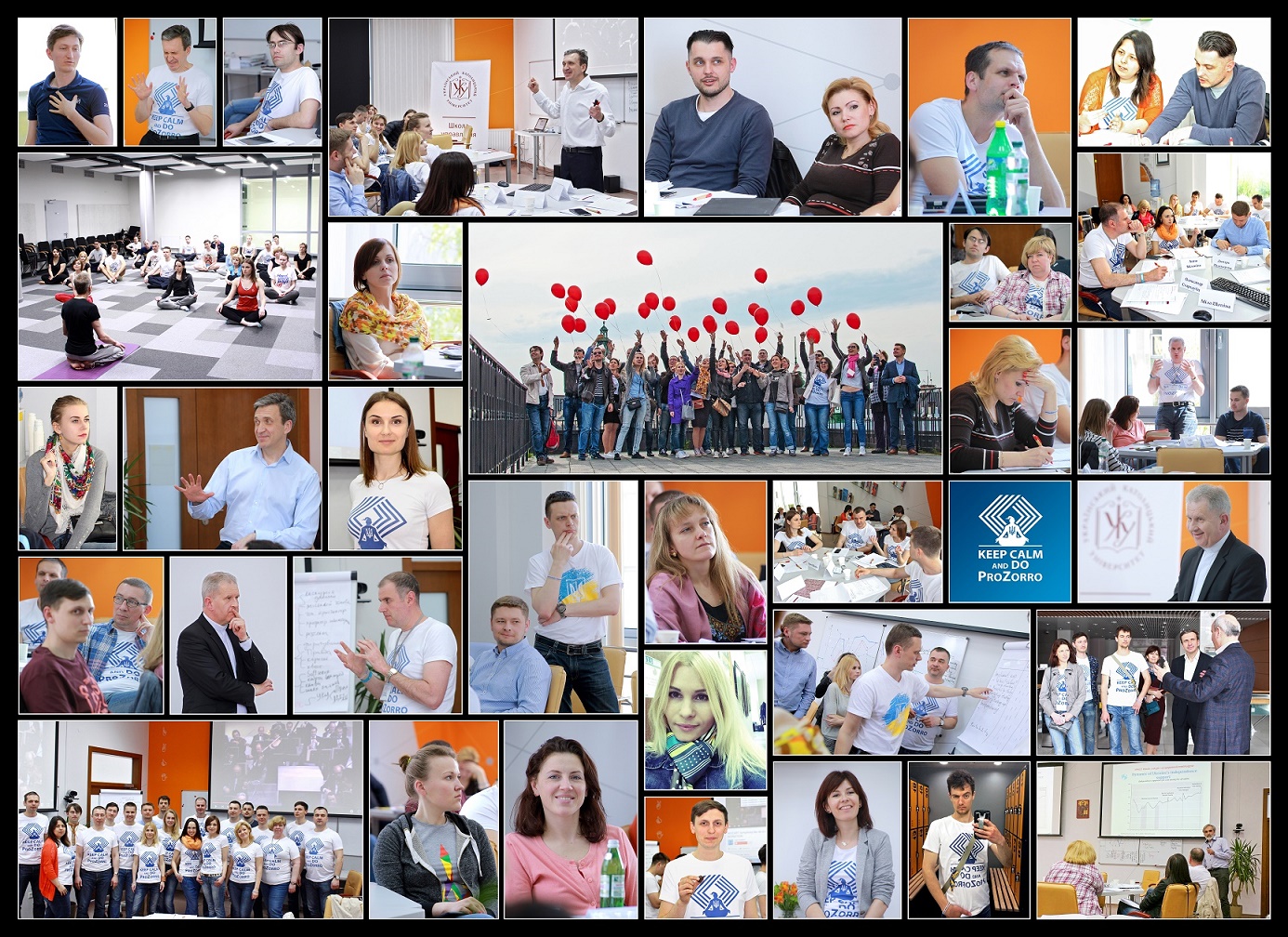 Our high-performance team is open to sharing our experiences with the world. We believe that the ProZorro principles are valuable in the context of public procurement ideas exchange worldwide.
We live in Ukraine and strive to make our country a place where our children will thrive. Achieving this and other reforms that help develop Ukraine further will depend on the efforts of each one of us.